If you inject
An important part of harm reduction is getting rid of your fits and equipment safely. From accidental jabs to contact with old swabs, there's plenty of ways used equipment can cause problems for you or the people around you.
What is safe disposal?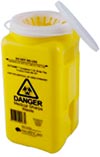 Used fits, swabs, tourniquets, water – everything involved in the injection process should be safely disposed of after use. It's not just a matter of sharps and public safety It's important to remember that anything that's been opened is no longer sterile and shouldn't be re-used by you or anyone else.
Fits shouldn't go into your garbage, and never put fits into a recycling bin. Plastic fits cannot be recycled.

RUSH can dispose of your used sharps safely. If you use fitpacks, taking care of used fits is fairly simple – just slip your used fits into the disposal section of the fitpack, and hand the box back when you pickup a new pack.
There are a number of different size containers, and all six and ten packs contain a disposal compartment.
Where's my nearest disposal bin?
RUSH isn't the only place you can safely dispose of your equipment. Check out Safe Sharps to find your nearest safe disposal bin. (Got an iPhone? There's an app for that).
Thursday Outreach means pickup, too.
We can pick up your used fits when we deliver your clean equipment. Just be sure to let us know on your Outreach order.
Questions?
If you're after more information or the answer to a specific question we haven't addressed here, feel free to get in touch with one of our workers by calling 02 9388 5110 9am – 5pm, Mon, Tues, Wed & Fri.
Sharps in your home?
Is someone in your home is disposing of sharps in a way that causes you concern? Incorrect disposal is often due to being unaware of safe disposal practices, or a perceived lack of disposal options.
Even if it belongs to a partner, immediate family member or close friend, we recommend not handling used sharps unless they pose an immediate danger. Call us on 9388 5110 or 0412 266226 or the NSW Needle Clean-Up Hotline (1800 633 353).
If you do decide to handle it yourself, be sure to follow our safe handling guidelines.
Found a used syringe?
If you've found a used syringe, we don't recommend trying to dispose of it yourself. Call us on 9388 5110 OR 0412 266226 or the NSW Needle Clean Up Hotline on 1800 633 353.
If it's vital that you deal with the found syringe immediately, be sure to read our safe handling guide first.
Sharps on commercial premises
RUSH does not accept commercial sharps waste. If your business generates sharps waste it is your responsibility to arrange appropriate disposal, as with other waste streams. There are a number of companies that provide sharps waste disposal services in the Sydney area.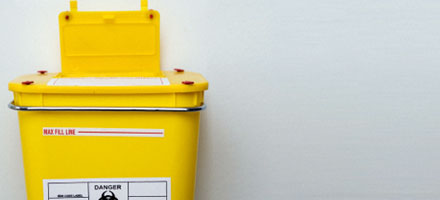 Safe handling
If you need to clean up someone else's discarded fit or other equipment, there's a number of precautions you can take to minimise your risk.
If possible, wear gloves.
Get a sharps container ready and place it on the ground or a flat, stable surface. If you don't have a sharps container available, a hard plastic screw-top container like a juice or soft drink bottle makes a good stand-in.
Keep away from the sharp end of the needle. Never attempt to re-cap an exposed needle – this is the best way to suffer an accidental needle stick injury.
Pick up the syringe by the barrel or plunger, and place it in the prepared container needle-point first.
Seal the container tightly and call us on 9388 5110 or the NSW Needle Clean-Up Hotline on 1800 633 353 (1800 NEEDLE), bring it to us for disposal, or place it into a nearby syringe disposal bin.
Do not put the needle down the toilet or drain, as it will end up in a waterway or on beach.
Do not put the needle in household waste or recycling
Tell children not to touch or pick up needles and syringes, and to always call an adult for help.